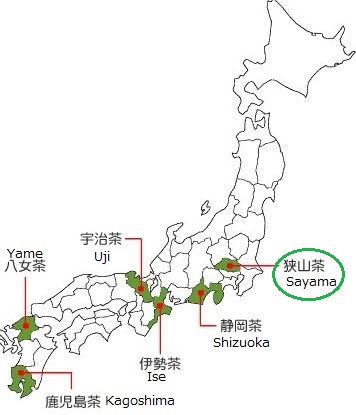 Sayama Tea is a type of green tea leaves produced mainly in the southwestern region of Saitama Prefecture and a small neighboring area in Northwestern Tokyo. In comparison to teas from other tea-growing regions in Japan, Sayama Tea is characterized with its thick leaves. This is because the region is considered to be fairly north, and the cool climate, which sometimes causes frost in winter, makes trees unable to survive without thick leaves.

Through selective breeding, efforts to develop tea trees strong in cold weather have been undertaken for many years. As a result, trees of Sayama Tea evolved to have thick leaves that can withstand cold weather. Tea extracted from such thick leaves resulted in a distinct sweet and rich flavor. Sayama tea has been found to have some of the highest levels of the beneficial antioxidants found in green tea

The Musashino Plateau on which Sayama Tea is grown is suitable for tea growing. The plateau consists of two layers. The lower layer consists of conglomerates and sandstones that were brought to this region by rivers. The upper layer is made of a reddish loam created by the accumulation of volcanic ash. Together, these two layers make the region unsuitable for growing rice but suitable for tea growing, which requires high precipitation and high soil permeability.